HomeRF Overview and Market Positioning
By Eamon Myers - MSc in eCommerce, DCU, Ireland

The HomeRF Shared Wireless Access Protocol (SWAP) is designed to carry voice and data within the home. A new class of mobile consumer devices using PCís and the Internet has been made possible with the advent of HomeRF. In telecommunications, cable modems and xDSL are often referred to as being the last mile. In that context, HomeRF could be referred to as the last 50 meters. HomeRF has received the backing of many corporate stakeholders for networking within the home. HomeRF makes use of the existing PC industry infrastructure, as well as the Internet, TCP-IP and Ethernet. A standard is also available in HomeRF, which offers a way to connect to the PSTN for voice telephony. HomeRF, SWAP compliant systems are already available. Future specifications of SWAP are currently being researched and developed. It is envisaged that these future specifications will offer increased security and higher data rates.
1 Introduction
Two factors have emerged to give data networking within the home, a real opportunity to succeed.
The explosive growth and usage of the Internet is a primary factor. The Internet offers us an opportunity to revolutionize the delivery of information and entertainment into the home.

The widespread emergence of cheaper home PCs is also a huge factor in increased Internet and PC usage. The presence of sub $1000 PCs allows all middle income households obtain a PC if they so wish.
It has already become noticeable to consumers that some key attributes are lacking in the PC/Internet combination. Unlike radios, CD players, newspapers and magazines, home PCs, printers and general computer peripherals can only be reached within a 3-foot diameter. This shortcoming offers a huge opportunity for home networking, thereby extending the reach of the PC. Integrating the Internet, PC and printer with telephony, audio and home control systems would also be hugely beneficial for homes in the future. Activating other home electronic systems by voice as well as the sharing of a high quality printer in multi PC homes are also emerging as important needs. A list of home networking needs and the bandwidth that each requires now and in the future is illustrated in figure 1.
With these issues in mind, a number of large home PC stakeholders formed the HomeRF Working Group. This combination of stakeholders created the Shared Wireless Access Protocol (SWAP). SWAP uses major sections of proven protocols, simplifying them where appropriate for home usage.
2 HomeRF Working Group
Launched in March 1998 the Home Radio Frequency Working Group (HomeRF WG) has developed a single specification, the Shared Wireless Application Protocol (SWAP), for a broad range of interoperable consumer devices. The HomeRF working group includes many leading companies from the personal computer, software and semi-conductor industries. Together they have developed the open industry SWAP specification.
Cost factors as well as the impracticability of extra wiring has inhibited the widespread adoption of the previous home networking technologies. It is hoped that HomeRF will break through these barriers. Since its foundation in 1998 the number of companies joining the HomeRF working group has risen steadily. It now boasts almost 100 member companies. The inclusion of all the leading electronic companies in the working group ensures that a variety of innovative, interoperable devices for use in and around the home will be available to the consumer. The working groupsí newly expanded organizational structure includes 6 promoter companies. Compaq, Intel, Motorola, National Semiconductor, Proxim and Siemens.
In this capacity, these six companies will work to establish the mass deployment of interoperable wireless networking access devices for voice, data and streaming media in consumer environments. The six promoters, each representing a key industry sector will be instrumental in the final development of SWAP 2.0, which is being designed to handle 10Mbps Ethernet speeds while at the same time meeting the cost, range and interference avoidance requirements of consumer markets. Essentially, the SWAP specification defines a new common interface that supports wireless voice and data networking in the home. The wide range of industries represented ensures that the specification is reasonably complete in all sectors. SWAP compliant products operate in the license free 2.4GHz frequency band and utilize frequency hopping spread spectrum radio frequency technology for secure and robust wireless communications.
3 HomeRF Vision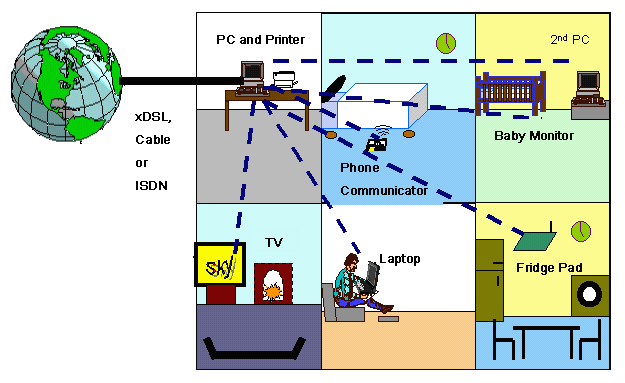 SWAP is envisaged as one of a number of connectivity options for the home in the future. In figure 3.1 the relationship between SWAP and all the different connection options are shown:
As a prerequisite, the main Home PC is linked to an Internet gateway that can have a cable modem, xDSL or ISDN connection.

The HomeRF system begins with a control point, which is usually connected to the main PC via USB. The control point is not necessary for all devices but it can offer some interesting power saving options for ultra portable devices.

Isochronous clients such as cordless telephones, wireless handsets, interactive toys are always bound to the control point. The control point guarantees them bandwidth for bounded latency communication.

Asynchronous peers can also connect to the home PC as with any other peer device. It should be noted that asynchronous communication between two peers is performed directly between PCís without being routed through the control point. Three major applications of HomeRF will now be examined.
3.1 PC Enhanced Cordless Telephony
The first example deals with PC enhanced cordless telephony. At present there is no standard for digital cordless telephones, which allows interoperability between multiple vendors. HomeRF defines a new standard for interoperable digital cordless telephones. The SWAP specification also includes a standard method for connecting cordless telephones to the main Home PC. One application takes caller ID information and sends it to the PC. Information is then applied to look up the name of the caller. Voice recognised calls could also be instigated. HomeRF can connect the user in the cheapest manner, which can indeed involve IP telephony. Using voice synthesis the cordless telephone could also be used to initiate changing a central heating temperatures, adding items to an electronic shopping list or switching on or off cooking equipment. It has to be acknowledged that more powerful cordless handsets are needed to perform these features. These more powerful cordless handsets would not be substantially more complex or expensive than existing cordless handsets.
3.2 Mobile Internet Viewing
Another application that could make use of a HomeRF system is a mobile Internet viewing application or indeed a PDA. A SWAP radio connection would be required by the mobile application. HomeRF would allow communication between the PC and the mobile application through the receiving and sending of IP packets.
3.3 PC Resource Sharing
One of the major uses of HomeRF is resource sharing amongst multiple PCs. Sharing of printers, internet connections and other computer peripherals is made possible using HomeRF. Such an implementation also offers multi-player gaming possibilities in the home. In an age where almost 56 million US homes have 2 or more PCs, consumers are becoming ever more aware that the floppy disk is not an effective way to link computers demanding file sharing. In essence the HomeRF vision is for a ubiquitous technology that can be installed on PCs, printers and other computer peripherals as a standard. HomeRF will in turn enable a new generation of consumer products.
4 HomeRF Technical Specification
The SWAP system can operate either as an ad-hoc peer to peer network that provides traditional data networking or as a managed network under the control of a connection point. A SWAP network can consist of three types of devices.
Control Point

Isochronous voice devices

Asynchronous data devices
Using a contention-based protocol the connection point can perform data transfers to and from other data devices. The SWAP protocol is a client server between the control point and the voice devices but is peer to peer between the control point and data devices.
HomeRF uses, references and maps existing network layers. However, HomeRF has modified the existing technologies for the Physical (PHY) and Data Link (MAC) layers. Figure 4.1 illustrates the network layers of HomeRF.
4.1 MAC Layer
MAC is optimized for the home environment and is designed to carry both voice and data traffic and to inter-operate with the PSTN using a subset of DECT. A TDMA service is used to support the delivery of Isochronous data and a CSMA/CA service (derived from Wireless LAN standard IEEE802.11) is provided to support the delivery of asynchronous data. This can be seen more clearly in figure 4.2.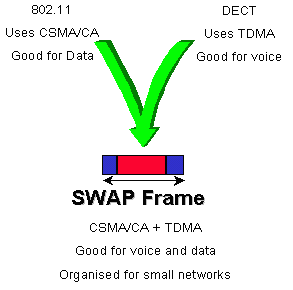 The SWAP MAC provides the following features:
Good support for voice and data by using both TDMA and CSMA/CA access mechanisms.

Support for 4 high quality voice connections.

High data throughput 1.6Mbps.

Data security.

Power management for Isochronous and Asynchronous nodes.

24 bit Network ID.
4.2 PHY Layer
The PHY specification for SWAP was largely adopted from IEEE802.11FH. It has been modified significantly to reduce cost, allow a single chip implementation while still maintaining more than adequate performance for home usage scenarios. Some key SWAP PHY layer specifications include:
Transmit power up to +24dBm

Receiver Sensitivity in 2FSK

Optional low power transmit mode: 0 to 4 dBm for portable devices.
5 Software Architecture
SWAP devices are supported in Microsoft Windows via the NDIS driver library. SWAP is designed for use mainly in Windows 2000, but can also be used in Windows 98 with some minor modifications. The NDIS library performs many functions common to all networking device drivers, such as synchronisation. It also provides a standard interface that higher-level applications can access.
NDIS exports two distinct interfaces. A connectionless interface used by broadcast media like Ethernet, and a connection oriented interface used by media that have explicit connections between endpoints like ATM.
Manufacturers of asynchronous node devices should write a connectionless miniport that declares itself as a member of the Ethernet media type. To higher level protocols, SWAP asynchronous nodes are indistinguishable from regular Ethernet adapters.
Manufacturers of Isochronous node devices should write a miniport that declares itself as a member of the Ethernet media type. It should display a connection oriented interface however, not the connectionless interface used. NDIS works in Windows 98 and in Windows 2000. Isonchronous node drivers must also provide call management functions to enable the setting up and terminating of calls. Isonchronous node call control should be done through TAPI. TAPI is a simple set of object interfaces and methods for establishing connections between devices. The TAPI proxy is freely available in Windows 2000, while in Windows 98 it can easily be obtained.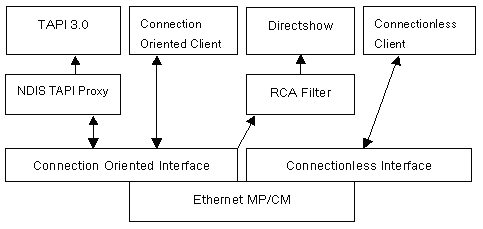 Some device designers may wish to stream voice conversations between the SWAP adapter and another adapter within the PC in real time. In Windows 98 and Windows 2000 voice streams coming in through NDIS are redirected to the Raw Channel Access filter, which then sends them into Directshow, as illustrated in figure 5 of the software architecture diagram above.
6 HomeRF Security
Since privacy is a primary concern for many wireless technology users, HomeRF has vowed to make the technology as secure as possible.
The first form of security in HomeRF is a 24-bit network IP that is specific to each personal area network. This network IP prevents devices outside of a users personal area network intercepting and using information sent from a remote personal area network. Take an apartment block as an example, HomeRF devices from one system could potentially interfere with another apartments HomeRF system.
As well as an independent network IP, data is sent with a 56-bit encryption algorithm. The 56-bit encryption algorithm is more tamper proof than the 40-bit encryption codes previously recommended by the National Security Agency. The encryption algorithm, which was devised by security experts at Intel, is significantly stronger than the A5 algorithm used in GSM, yet it is only slightly more complex in hardware. When exporting HomeRF to countries of concern to the NSA the encryption algorithm is flexible enough to revert back to 40-bits. SWAP also makes use of LZRW3-A algorithm when compressing data.
7 HomeRF Implementations Examined
7.1 Intel Anypoint
On April 5, 2000 Intel launched the Anypoint wireless home network option. The Anypoint home network allows you use drives and printers as if they were attached to your own computer. The Anypoint home network requires a HomeRF adapter and Anypoint software for each PC. After configuration the Anypoint adapter and software gives 2 or more PCís the ability to communicate with each other. The Anypoint home network also increases security with its in built firewall. Multi player games are also catered for in the Anypoint home networking system. High quality digital audio can be streamed from one PC to another using Anypoint. The Anypoint intercom allows one PC user, communicate with another Anypoint user in a connected environment. At present, the price of an Intel Anypoint wireless home network external adapter is $99 per PC in the home.
7.2 Proxim Symphony HRF
On November 6, 2000 Proxim unveiled Symphony HRF. Symphony HRF is compatible with the HomeRF standard, enabling secure high-speed networking. Symphony HRF is compatible with future voice enabled computing devices. Like Intel Anypoint, Symphony HRF offers security as well as streamlined configuration.
Streamlined HRF is a wirefree network solution that connects up to 10 computers at 1.6Mbps up to a distance of 50 metres away. Users can share files, printers and single broadband or dial up connection. Forward compatibility with upcoming voice technologies is also offered. Proxim have designed Symphony HRF to be interoperable with a wide range of HomeRF based products from Compaq, IBM and Intel. It has also been designed to be compatible with HomePNA based phone line networks. The price of 2 Symphony PCI cards and 1 cordless Ethernet Bridge is $258 and $399 respectively. It is obvious that these prices will have to drop considerably, before the technology is adopted on a large scale.
8 HomeRF Compared to Rival Technologies
8.1 Bluetooth
Bluetooth is a code name adopted by a consortium of wireless manufacturers working towards a global standard for wireless communication of data and voice. The Bluetooth technology is based on a short-range radio link built into small application-specific integrated circuits (ASICs). It can support both stationary and mobile communications and uses frequency hopping, 1,600 hops per second as opposed to 50 hops per second in HomeRF. Bluetooth supports data transmissions between devices of up to 721 Kbps and offers up to three voice channels. Bluetooth like HomeRF operates in the 2.4 GHz band. Bluetooth technology enables a user to replace cables between devices such as printers, fax machines, desktop computers and peripherals, and a host of other digital devices. Furthermore, Bluetooth technology can provide a connection between the ad hoc network and existing data networks.
As claimed, Bluetooth technology is designed for wireless personal area networks (WPANs), which are networks of personal electronic devices in close proximity to each other. Bluetooth technology is expected to become a major player in the wireless data communications market because of simplicity and its support from large companies. And Bluetooth members are encouraging vendors to incorporate the technology into their products by waiving intellectual property royalty fees.
8.2 Ethernet 802.11
802.11b is a wireless Ethernet specification. 802.11b was originally designed to enable high performance radio to support roaming in large offices or business campus environments. 802.11b is quiet expensive compared to SWAP. It must be remembered that 802.11b supports voice over Internet protocol. 802.11b depends on a distributed contention based algorithm, which induces latency in voice transmissions. Latency in voice transmissions is not a problem with SWAP. 802.11b does not yet have complete telephone functionality. Features like caller ID are not available. Unlike 802.11b, SWAP has a full range of telephone functionality based on DECT (Digital Enhanced Cordless Telephony).
8.3 Interoperability
Several wireless technologies could possibly survive the test of time. This will create many interoperability problems. Some have even speculated that this may create a market for black boxes that translate between standards. The cost of implementing RF however is quiet high. For example, the cost of implementing RF in a printer is $20 compared to $6 for infrared implementation. Figure 8.1 gives a perceived market positioning for the two technologies implicatly mentioned in this section and HomeRF.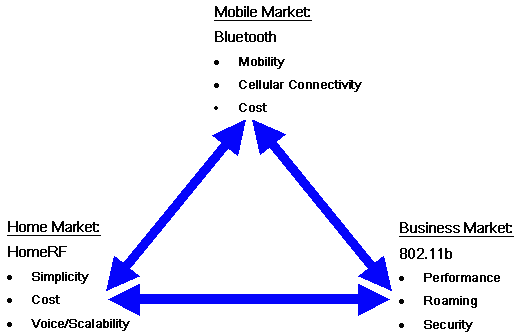 9 HomeRF Future
The HomeRF organisation is at an advanced stage of discussion regarding the next SWAP specification. HomeRF hope to take advantage of the FCC ruling, which allows increased transmission speed capabilities of SWAP. It is anticipated that the data rate will be increased to 10MBps in the 2.4GHz band. While the data rate will increase significantly the HomeRF Working Group are striving to retain backward compatibility with SWAP 1.0.
It is hoped that SWAP 2.0 plans for a 10Mbps data rate, will mean only a minor cost difference compared to the existing 1.6Mbps products. It is perceived that future generation SWAP products will offer a 20Mbps data rate or more.
128-bit encryption is also expected in the next generation of SWAP. (Note: 128-bit encryption was not found in the original specification due to previous U.S government restrictions).
SWAP 2.0 prototypes should follow soon after the SWAP 2.0 specification. It is envisaged that SWAP 2.0 compliant products will be launched in the second quarter of 2001. More specifics about SWAP 2.0 will become apparent in the next few weeks as HomeRF strive to complete the specification. However , the long-term success of HomeRF is difficult to predict, Bluetooth and other technologies like HiperLAN2, IEEE 802.11, while not directly competing in the same marketplace, will cause some blowback. Regardless, the HomeRF Working Group will, continue on its stated mission: to establish and deliver the mass deployment of interoperable wireless network access devices for voice, data and streaming media in consumer environments.